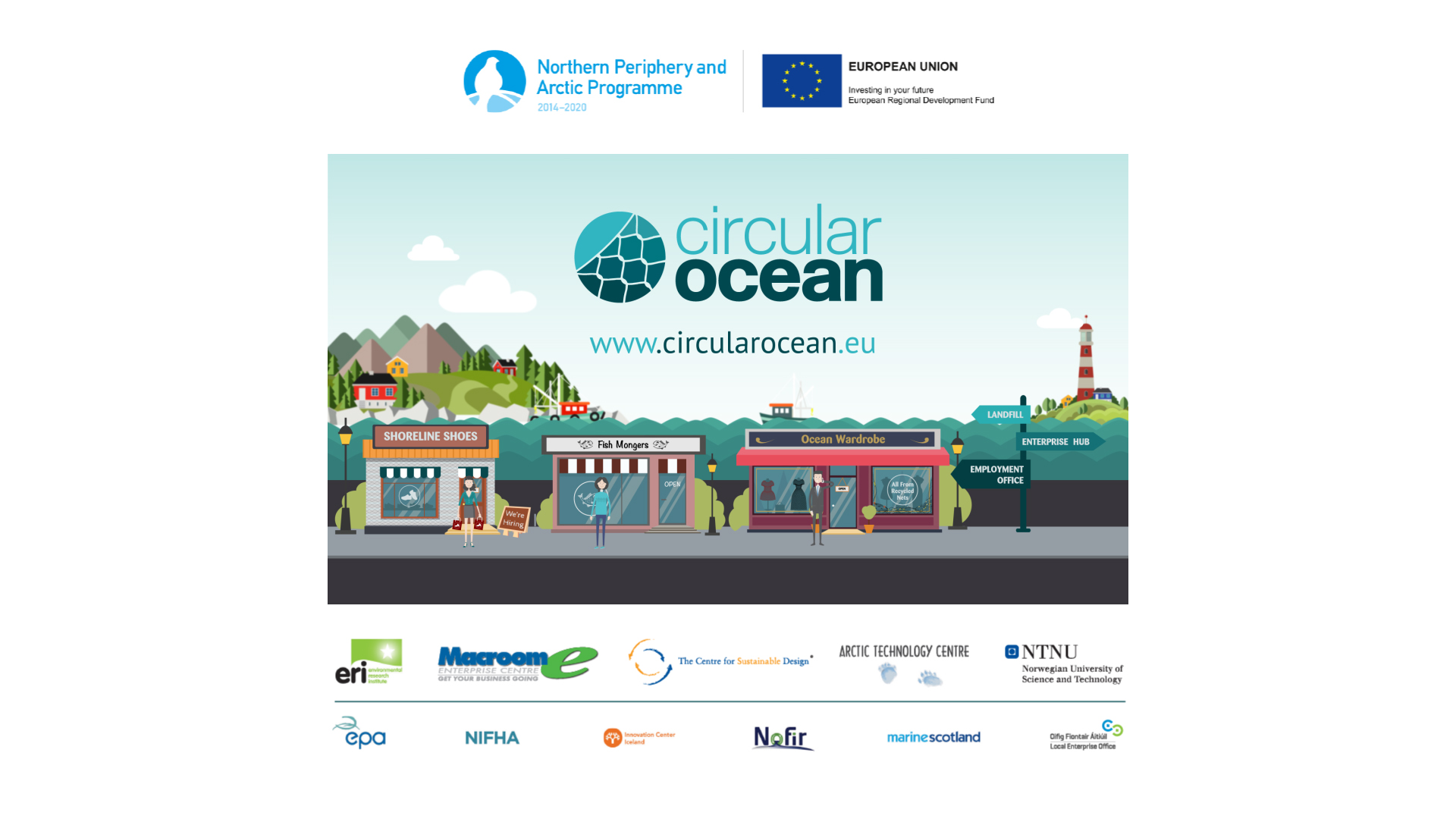 I think I entered this project with a dirty mind!!
If you're asked to produce an animation about fishing nets – don't google 'fishnets' (like I did) cause that's a WHOLE other project.
Once I cooled down (and got over my disappointment) I realised what a fantastic project this would be.
Circular Ocean is a European project set up to tackle the increasing amount of marine litter clogging up the Northern Periphery & Artic Region.
They focus on discarded fishing nets… the recovery, recycling and reuse of the material. They want to create jobs. They want to solve a problem that's killing animals and costing business.
So when Storywise was asked to tell their story… we all shouted Ahoy! and were thrilled to be onboard. (If you thought those nautical puns were bad…  you should sea what's coming!)
TIME AND TIDE WAIT FOR NO MAN
Our brief was to produce a short animated video explaining the project.  It needed to be ready for the official launch in Greenland – turnaround eight weeks. The communication side of the project was headed up by Macroom E in Cork. We worked with Macroom E before (on several other animations) so it was great to set sail with them again.
We spent the first two weeks eating, sleeping and dreaming about fishnets…  erm… fishing nets. We learnt everything we could about the NPA region, the plight of its marine life, the damage caused to the fishing industry and everything in between – from entrepreneurs turning old nets into skateboards, to a Nordic sea goddess (named Rán) who captures sailors with her very large net. (nauti girl!)
FISHING FOR THE RIGHT CONCEPT
We ran a few story concepts by the team in Macroom. These ranged from infographic-style videos to an action-packed spy thriller.
They loved some  — not so much others.
Are you shore?  we asked. Water you thinking? they said.
Eventually we seaduced them with a solid story concept built around the commonalities of the region.
KEEP'N IT REEL
The NPA region is home to many countries, cultures, languages and currencies — so writing a 'one size fits all' script was challenging.  To add to it, the project partners where spread across nine countries. However…  in keeping with Popeye's motto "I'm strong to the finish, cause I eats me spinach", we followed through with a number of script revisions and after some back and forth with Macroom E — they signed off on the final script. (toot, toot)
YOU'RE GONNA NEED A BIGGER BOAT
The voiceover samples we got back from our v/o artists weren't working.  They were brilliant in their own way…  but something was missing. (and Captain Birdseye wasn't available either.)
Then it happened. Liam Neeson was on television.
Hmmm… I thought. Now there's an interesting accent — and Northern Ireland is slap bang in the middle of the NPA region too.
Later that night I woke up in a sweat.
It was Liam.
"I don't know why you left that fishing net there, but I will find you and I will kill you."
The accent was perfect. Of course we couldn't afford Liam… so we cast our net further into the sea of v/o artists  — and eventually caught our perfect voice.
CIRCUMNAVIGATING BRAND GUIDELINES
Visuals are important; it's a reflection of a companies brand.  Brand guidelines can be a tricky body of water to navigate, but we had the good fortune of working with Circular Ocean's beautiful logo and great colour scheme. Our graphics were heavily influenced by the natural landscape of the NPA region —  the buildings, their shapes, colours, etc. We populated scenes with marine life, fishermen, factory workers, entrepreneurs and customers. We even added a lighthouse to watch over them all.
EBB AND FLOW
Animating water is difficult and this video had oceans. However… when you've seen as many episodes of Baywatch as I have; you really get to understand the complexities of water in slow motion.  And who could forget the brilliant acting skills of those who fished people out in the nick of time. There was Pamela and…  no — just can't seem to remember the other names.
SOUNDS OF THE SEA
Even SpongeBob SquarePants knows that sound is half the experience. Imagine JAWS without the 'duunnn dunnn… duuuunnnn duun' or Flipper without the'Ee'k a'ak sqeeek uh'k akbe'.  At Storywise we couldn't imagine the Circular Ocean video without the sounds of seagulls and crashing waves either, so we added our own carefully-chosen sound effects on porpoise, to heighten the mood.
In the world of corporate video, it's standard practise to use royalty-free music. However… we felt this story needed a little more TLC, so we composed our own piece of music. We shared the view with Macroom E that it needed to be serene, emotive and rise to a dramatic conclusion.
LAND AHOY!
The video was complete. The launch day arrived. Circular Ocean announced itself to the world (via beautiful Sisimiut in Greenland). The website went live, brochures went out and the explainer video was a success.  Good job lads! — net gain for everyone.
For our part we were delighted to get a 'whale done!' in the form of a nice testimonial. (Thanks Skipper Green)
"Working with Storywise has been a most worthwhile experience for Macroom E. Paul took great time and effort in understanding our Circular Ocean project which was critical in getting the story right. This combined with his creativity led to the creation of a wonderful animation that depicts the story of our project better than we could have imagined. We look forward to working on the next one!"
Macroom E were a dream to work with. And it's a pleasure to have clients who communicate well, understand the creative process and allow us the creative freedom to do our thing. It always gets results.
THE SECOND VOYAGE
The good news is we're producing five more animations for Circular Ocean, over the lifespan of the European project.
The bad news is….  an irritating song has beached itself in my head. (from over-researching 'fishing villages')
*cue music*
"What's the story in Balamory?" Wouldn't you like to know?"
Ah…… NO! I  F'N  WOULDN'T.
Here's the animation.
P.S. If any of you sea dogs would like to tell your own business story, please put your message in a bottle (before the tide goes out) and send it to paul@storywise.ie …and why not drop anchor at www.storywise.ie for a while too. The fish'n is great.